The Photographer of the Lost (UK version) / The Poppy Wife (US version)
In the aftermath of war, everyone is searching for answers.
1921. The Great War is over and families are desperately trying to piece together the fragments of their broken lives. While many survivors have been reunited with their loved ones, Edie's husband Francis has not come home. He was declared 'missing, believed killed' during the war, but when Edie receives a mysterious photograph in the post, taken by Francis, hope flares. And so she beings to search.
Francis' brother, Harry, is also searching. Hired by grieving families to photograph gravesites, as has returned to the Western Front. As Harry travels through battle-scarred France, gathering news for British wives and mothers, he longs for Francis to be alive, so they can forgive each other for the last conversation they ever had.
And as Harry and Edie's paths converge, they begin to get closer to a startling truth.
An incredibly moving account of an often-forgotten moment in history, The Photographer of the Lost is an epic novel of forbidden love, loss and the shattered lives left behind in the wake of the First World War.
Publishers: Simon & Schuster UK (October 2019) / William Morrow US (November 2019)
Retailers: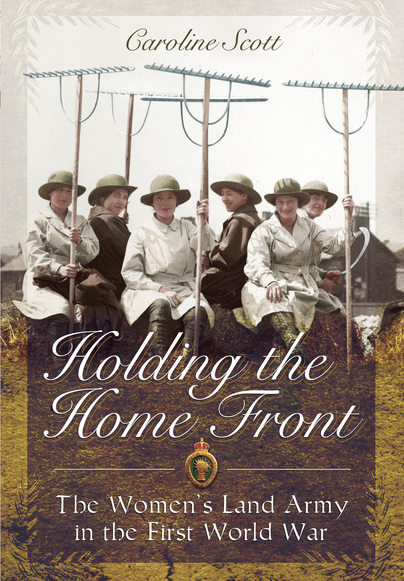 Holding the Home Front. The Women's Land Army in The First World War
In recent years the Second World War's land girl has caught the public imagination. We've seen her in films, television series and novels. We might be misremembering her, we might have distorted her image into one that suits a twenty-first century audience, but we haven't forgotten. Other things have been forgotten, though. One could be forgiven for supposing that the story of the Women's Land Army starts in 1939. But it's a much older and more complicated history.
British agricultural policy during the First World War was held up as a success story; coming through a great national emergency, domestic food production was higher at the end of the war than at the start, the average calorific value of the British diet barely changed and bread never had to be rationed here. As the press reported starvation and food riots overseas, the 1918 harvest was held up as one of the great achievements of the War.
In 1917, at the darkest hour, when Britain's food security looked most precarious, it was said that, If it were not for the women agriculture would be absolutely at a standstill on many farms. Is that true? Were women really keeping the wheels turning? Using previously unpublished accounts and photographs, this book is an attempt to understand how the return of women to the fields and farmyards impacted agriculture – and, in turn, an examination of how that experience affected them.
This is the story of the First World War's forgotten land army.
Publisher: Pen & Sword Books (2017)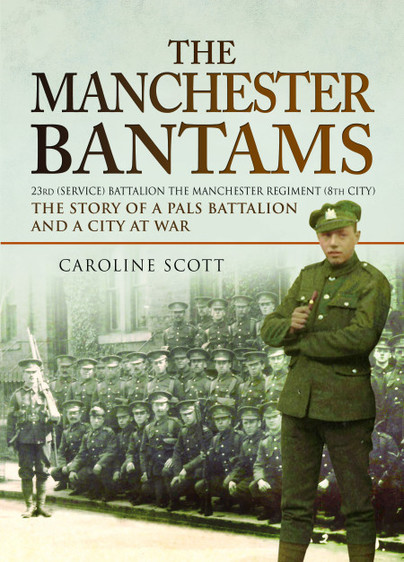 In May 1916 Major Eustace Lockhart Maxwell, a former Indian cavalry officer, was given command of an infantry battalion in France. After 48 hours with his new unit, Maxwell wrote to his family: 'The outstanding characteristic of those who belong to it seems to be their extraordinary self-complacency! Esprit de corps is a fine thing, but the satisfaction with which they regard themselves, their battalion, its internal economy, its gallantry, its discipline, its everything else, is almost indecent! If at the end of a month my opinion of them is half as good as their own, I shall think myself uncommonly lucky.' This was the 23rd Manchester 'Bantam' Battalion, a unit entirely composed of men of a height between 5ft and 5ft 3", and its esprit de corps was about to be severely tested.
The 'Bantams' left colourful, characterful, moving and often amusing records of their experiences. Using a wealth of previously un-published sources, this book follows the Manchester men through their training, their experiences of the Somme and the Third Ypres Campaign, to Houthulst Forest where, in October 1917, the Battalion was 'practically annihilated'.
Publisher: Pen & Sword Books (2017)
Those Measureless Fields (now out of print)
Captain Laurence Greene was gassed at Ypres. He takes ten years to die. With her fiancé, Joseph, lost in France, Effie Shaw spends a decade as Laurence's cook. They share a roof, a sweet tooth and a taste for pastoral romances. But propriety dictates that their sharing must end there. It is a surprise to Effie, then, when Laurence's will leaves her a railway ticket, the deeds to a tea shop and a declaration of his unspoken love.
The terms of Laurence's bequest require that Effie must travel to Ypres and visit her fiancé's grave. As Laurence told it, Joseph met his end with a show of heroics. But, in carrying out Laurence's last requests, and following his wartime diary, Effie is about to discover something shocking: Joseph wasn't quite as heroic as she was told – and he also isn't quite so dead.
The stories of three soldiers connect through Laurence's diary. As Effie travels on, from Passchendaele to Paris, these men become linked together once again. A decade on from the Armistice, is the war really over at all? Effie is about to realise just how many echoes – and untidy ends – 1918 has left behind.
'Those Measureless Fields' is a sucré-salé story about love, war, cake and canine smuggling. It's a novel about a woman setting out on a journey – and about three men who are trying to finish one.
Publisher: Pen & Sword Books (2014)